the Morgan Youth Group  

               at   Menomin Meadow Farm

This page was last updated on: June 3, 2009
CALL the farm for more information

                            (207)  457-2268  before 8PM

or  email us at    info@menomin.com







The Morgan Menomin Youth Group started their club July 2003.

Mitch Michaud  is the group's guide

The group meets once a month  to learn non-riding horse related   subjects and share each others company.

Members of the group also meet informally during the weekly lesson schedules.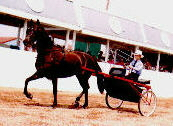 One of our group, showing for the first time. The horse is a farm lesson horse.

'Odie' and Jordan demonstrating proper seat position for the younger members of the group


The girls sharing 'favorite horse' stories